GET QUICK AND EFFORTLESS BEACHY HAIR IN LESS THAN 10 MINUTES WITH INSTANT WIRELESS CURLER
The INSTANT Wireless Curler is new hair revolution! The Small Ceramic Curler is completely wireless for use on the go, for a style that lasts! Lock curls in place all day long with the smooth ceramic barrel for even heat distribution. The ceramic surface and temperature adjustment settings create frizz-free and silky-smooth waves and curls. Curl direction settings are available for shaping your face with your new timeless waves.
EASY TO USE:
No skill required. Learned how to use within 1 minute. Everyone can be a hair curling expert!
TWO-WAY ROTATING:
With the latest two-way rotation technology, you only need to set the direction of rotation and put the hair in to create a perfect curl. Easy to operate.
POWERBANK WITH A MASSIVE BATTERY: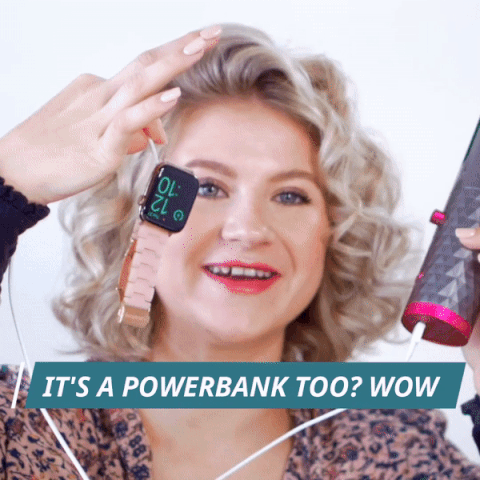 2 hour and 30 minutes of completely wireless use with 4 hours of charging fully with 5200mAh 18.72Wh high battery capacity. It can be used as a power bank to charge your phone, smartwatch or tablet (Micro USB 5V/2A charge cable included). Never worry about finding a power supply anymore. Now that is neat and handy!
FULLY CUSTOMIZABLE SETTINGS:
6 adjustable temperatures (150°C/300°F – 200°C/390°F) and 6 timer settings (8s-18s) allowing you to create loose to tight curls and waves that also helps avoid damaging your hair. LCD display to read heat, timer, battery level, and curl direction (left or right).